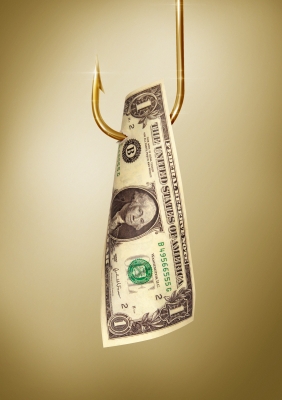 When you're stretching every dollar, your purchase decisions (the few you are able to make) revolve around sales. You pounce on the sale ads as soon as they come out, eagerly hoping you can find a good bargain on something you need. When you're lucky enough to spot a great deal, you celebrate because it means you'll have a little more to use for other essentials.
So it can be very discouraging to find that you can't actually get that item for the great sale price—and, in fact, you never had a shot at getting it all. That's because, you realize later, you've become the victim of a store's attempt to do a bait and switch.
What's a bait and switch? It may sound like a fishing term—and in a way it is, only you and I are the big catch stores are hoping to reel in. A bait and switch is when a store lures you in by promising a really great deal—only to then try to sell you a more expensive item instead.
The dirty little secret of retail is that many stores, including huge retail chains, engage in bait and switch tactics.
The fact that the store is offering an amazing deal isn't the problem. We're all familiar with those too-good-to-believe special deals. They've become the hallmark of Black Friday ads but also crop up at other times of year when stores need to get a spike in business and bring shoppers through the doors.
As a diehard Black Friday combat veteran, I'm very familiar with those sorts of promotions—the kind that would have neon lights flashing around them in the ad if that were possible. Think of the dolls for 99 cents or the DVD players for $10. These deals are usually known as loss leaders—because stores are willing to take a loss on potential profits from these items in order to lead you to other items in the store.
Loss leaders can have the same effect as a bait and switch, in that the goal is to get you to buy more expensive stuff. This is known as the upsell or the conversion. The difference is that the store does intend to sell you the bargain-priced item, because they figure they will more than recoup their profits with the other purchases you will make.
A bait and switch, on the other hand, is a dirty trick. It's unfair—and, frankly, it's a crappy thing to do. And it can really backfire on stores, because in this day and age it's very easy for shoppers to compare notes and do research online to find out if any stores actually had that item in stock at all and if any customers managed to buy it. Sometimes a manager or employee of the store will even admit (usually anonymously) that the item had little or no availability—meaning, shoppers never even stood a chance.
I've encountered the bait and switch many times—most recently, just last week. A major office supply retailer had advertised a netbook made by a brand with a great reputation. Not only was the netbook deeply discounted (about half the original price), it also included a popular software package that would have cost around $100 to buy separately.
Considering I am typing this post on a six-year-old laptop that shuts itself off randomly and is louder than my neighbor's muscle car, I really could use that netbook.
Even before the sale officially went into effect, the online deal-hunting community was already buzzing with reports that stores didn't have this item available. But I decided to give the store the benefit of the doubt. The sale was promoted as an in-store only deal, meaning you couldn't buy it through the store's website.
So on the day the sale started, I checked the website for availability at my local stores. Turns out, most of the stores within a 100 mile radius don't carry that item. The few that do had it listed as "very limited supply." Several calls and trips to those store locations throughout the week failed to turn up a single available netbook. I was told there were no rainchecks or substitutions allowed.
Naturally, though, there were plenty of other more expensive laptops that I could buy right then and there. Those, by some apparent miracle, were all available in stock.
My emails to the store's customer service contacts—which took days for a reply—each resulted in a form letter type of response, one of which mentioned that "demand exceeded our expectations." Really? I'm curious what their expectations were. Apparently, they expected maybe one person per store (or less) to want this item. Note to retailers: If you put a great deal on a popular item on the front page of your ad, don't be surprised when people actually want to buy it.
And if they can't—because you are trying to pull a bait and switch—don't be surprised if they tell the online community about it.
If you catch a store trying to pull a bait and switch, let them know you're on to them and won't fall for it. And be sure to warn others about it.