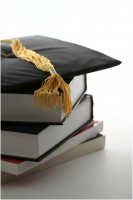 College can be really expensive. (You'll see lots more posts – and yes, rants – on that topic elsewhere on this site.) So you should look for ways to save on college wherever possible. One great way to earn credits quickly and easily is through CLEP exams. If you know a lot about a subject through work experience or previous education, you should look into CLEP. Basically, you take one test designed to gauge your comprehensive knowledge of that subject. If you score high enough on the test, you are awarded college credits. It really is that simple.
Most CLEP exams allow you to earn three credits – but some let you earn up to 12 credits! A CLEP exam usually takes a couple of hours, and it only costs $77. So, for less than a hundred bucks and a few hours of your time, you can earn at least three credits. Much better than spending an entire semester and a thousand dollars or more to earn those same credits.
CLEP exams are available for more than 30 specific subjects. Most of these are designed to be basic "gen ed" types of topics. So some people have managed to "test out" of their first year or two of college by taking a bunch of CLEPs.
I've taken some CLEP exams and would definitely recommend them. Check out my MainStreet.com story on CLEP exams for more information.