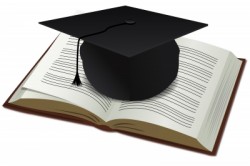 One way to cut a lot of the costs of a four-year degree is to do the 2-and-2 plan. This is where you attend a community college for the first two years and then transfer those credits to a four-year school. The community college tuition rate is usually a fraction of the four-year school, so you end up saving a ton of money.
Some people are reluctant to do this because they have a misconception about community colleges. There is a stigma attached to community colleges, especially in some areas where people often joke about the local community college being "13th grade," meaning it is like being in high school for another year.
In my experience, though, community colleges get a bad rap and it's unfair. Obviously, the quality and overall experience will vary greatly from one school to another. But our local community college has highly qualified, talented instructors who really know their stuff and go out of their way to help students. Our community college also has computer labs filled with the latest cutting-edge equipment and pricey software programs. It even has a professional television studio and recording studio. And because the classes tend to be small, students get more one-on-one help from an instructor than they would at a large university.
I personally took quite a few courses at the local community college, and really enjoyed the experience. I learned a lot of skills that proved very helpful in my work (and even in putting this blog together).
Tip: generally, you're allowed to use computer labs and other resources at the community college as long as you're a current student. Considering some computer programs (such as Photoshop) can cost $600 or more, it may be worth paying for at least one course per semester just to maintain access to these resources, if these are programs you'd like to learn how to use. If you already know how to use them but can't afford to buy them for yourself at home, this would allow you access to them when needed.
A lot of community colleges now offer some of their courses online, which makes this option more convenient as well as affordable.